Hi All,
I'm porting an ancient CF9 app to Lucee and getting very confused about the location of the Application.cfc and a few terms like like appBase, docBase, and webroot. I feel like an idiot.

Set Up
I launched a copy (AMI) of the existing windows 2016 server and the running CF902 app. Check everything was fine in CF9.
Installed Lucee using the installer knowing it would also install BonCode(all-sites) and mod_cfml.
I went into the IIS site for the CF9 Admin and I shimmied the BonCode handlers down below the ACF handlers and the old CFAdmin started working (on CF9) again. Great.
Then I tried to run the main app (in Lucee).
The error was in Lucee colours so that was a good start but it seemed the request had nothing from the Application.cfc.
Structure
Importantly, this app has two access points. The app root (at least the way I think about it) in the example below is the app-one folder which holds the Application.cfc and lots of other code and folders.
In two of those sub folders are different entry points to the app.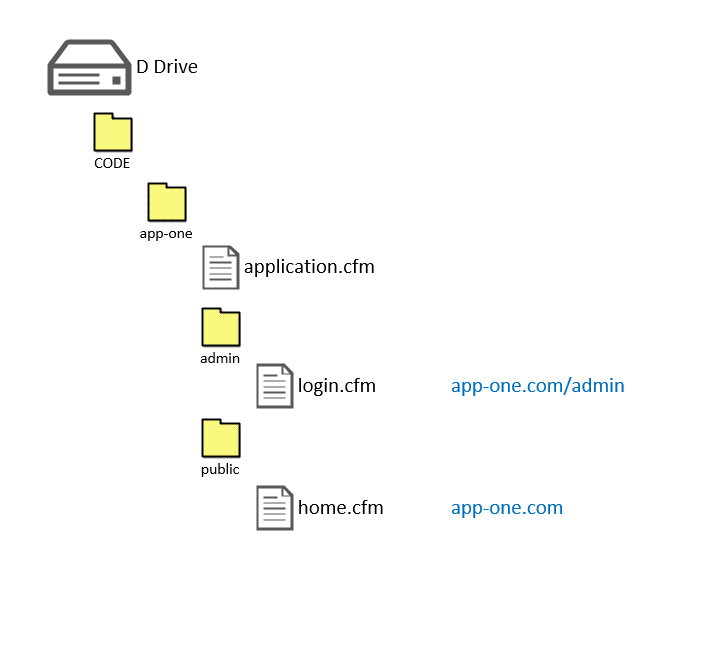 The setting in the Lucee Admin is looking in the webroot and up.
Current to root (CFML default)
Looks for the file "Application.cfc/Application.cfm" from the current up to the webroot directory.
I note the webroot shown in the Lucee Admin is not app-one. It's one of the entry points.


When I move the Application.cfc into the entry point folder it works (aside from other errors due to the moved application.cfc).
My question is;
How do I tell Lucee the webroot (appRoot? docBase? appBase?) is D:\CODE\app-one and what are those other terms I have seen in my hours of reading and searching.
I want to add I have never used Tomcat or BonCode or mod_cfml so I am swimming in a sea of ignorance - it's like treacle. I've spent an embarrassing amount of time on this and I'm frazzled.
Thank you in advance.
Jeff
---
OS: Windows Server 2016 64bit
Java Version: 11.0.19 (Eclipse Adoptium) 64bit
Tomcat Version: Apache Tomcat/9.0.76
Lucee Version: Lucee 5.4.1.8
IIS: Yes and I'm sorry


BonCode: Yes
mod_cfml: Yes