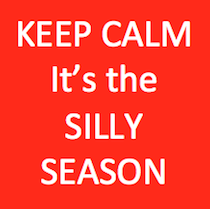 Merriam-Webster defines "silly season" as "a period (such as late summer) marked by frivolous, outlandish, or illogical activity or behavior." Well, we here at Lucee must be out of touch with popular trends, because the past few months have been the exact opposite of silly season! It's been a dead-serious development push (busiest stretch ever, as I described in the Mid-Year Development Update and other posts). The result is two shipments of Lucee today–a final build (5.3.3.62) and a new release candidate (5.3.4.54). Read on for the deets!
First, here is the final list of tickets covered by 5.3.3.62:
Next, here's the ticket list so far for the 5.3.4.54 release candidate:
Please head over to the downloads site and grab one/both of those, and thanks in advance for any and all testing/feedback.
Next, returning to the topic of the remaining development schedule for 2019, we've come up with the following plan:
At least 1 more final release (5.3.4).
At least 1 more release candidate (5.3.5-ish).
Catch-up on any lingering bugs/problems, in particular those related to security, or those that are blockers to anyone wanting to upgrade to the latest production release of Lucee, along with catch-up on pull requests (hears a loud "huzzah!" from the community on this one!).
Progress on Lucee 6 (though not necessarily a beta or even an alpha).
Regarding #1, we're now in the RC period for 5.3.4, so we'll make that final depending on how regression testing/community feedback go. Regarding #2, we'll decide when the next monthly sprint will take place based on how things go with numbers 1, 3 and 4. #3 may push #2 later on the calendar, if we find that we need to make a substantial development push to get caught up/stable/etc. We'll have more info about #4 as we get closer to CFCamp. We'll definitely be previewing at least some Lucee 6 goodness at CFCamp, and based on how far we get with that effort, we'll then decide on the schedule for a formal alpha/beta/release candidate plan for Lucee 6.
Next, a bit more about #3 above. Late last week, and into this week, we put in a really substantial triage effort that covered over 200 tickets, almost all of which were created in recent months. So, if a ticket (or tickets) important to you isn't baked into either this final release or the RC, then please take a look at Jira to see if there's an update to your open ticket(s). Again, we're going to plan the rest of this year's development efforts around finishing the year strong, and making sure we're caught up on especially critical items, so comment/upvote, etc., and we'll be ready to react.
As always, holler with any and all questions/comments/commentary, and thanks for listening!
Best,
Patrick