Hello,
I've hit a brick wall here. I am trying to upgrade Lucee 4.5 to 5 and post upgrade am getting errors.
After the last step (delete all JARA in C:\railo\lib, keep the lucee-server dir, copy in lucee-5.2.1.9.jar), the service (which is still named "Apache Tomcat Railo") DOES starts, but web pages return 404 errors shown below (and log files attached):
Request for http://localhost:8888/lucee/admin/server.cfm > 404 - The requested resource is not available. - Apache Tomcat/7.0.73

Request for http://localhost/test.cfm > 404 (module IsapiModule > ExecuteRequestHandler) c:\railo\connector\isapi_redirect-1.2.31.dll / from IIS
I installed Java 1.8 and removed the ancient 1.6 and updated environment paths to see if that would help. It didn't…
What I don't understand is that I see in some posts people talking about dropping the lucee.jar file into the /tomcat/lib/ext/ directory but the upgrade steps (http://docs.lucee.org/guides/lucee-5/upgrading-lucee-45.html) don't seem to mention that and I've put it in c:\railo\lib. Is this wrong?
Log files from C:\railo\tomcat\logs\ created when I start the service are included below. Do they help shed any light on this to anyone? I see some messages about "lucee/loader/servlet/LuceeServletContextListener : Unsupported major.minor version 51.0",. which leads me to believe Java 1.6 is still being used, however, I have un-uinstalled 1.6 and made sure the environment variables and registry entries all point to 1.8 (as mentioned in https://groups.google.com/forum/#!topic/lucee/2Vl0E1saMFI). Could Lucee be pointing to Java 1.6 in a config file?
My environment variables look like this: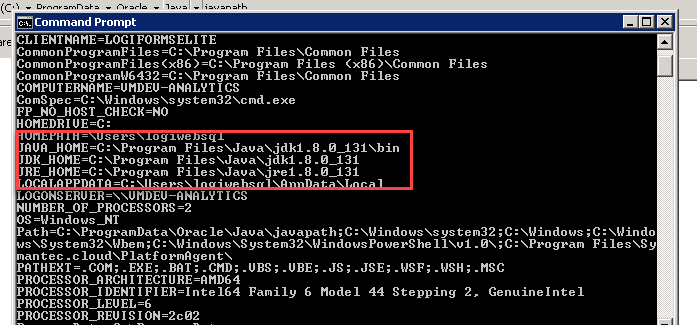 Any help at all is appreciated - I am dead in the water on this (after many hours)…
commons-daemon.2017-06-26.log (892 Bytes)
host-manager.2017-06-26.log (11.1 KB)
railo-stderr.2017-06-26.log (98.8 KB)
catalina.2017-06-26.log (98.6 KB)
Brook