I'm reproducing this from the CFML Slack channel as I didn't get any feedback there.
I am trying to tell my Lucee server to not maintain its own settings re my timezone, instead just inherit it from the server settings. I cannot find a way to do this on the admin UI, where it requires me to actively tell Lucee what TZ to be in: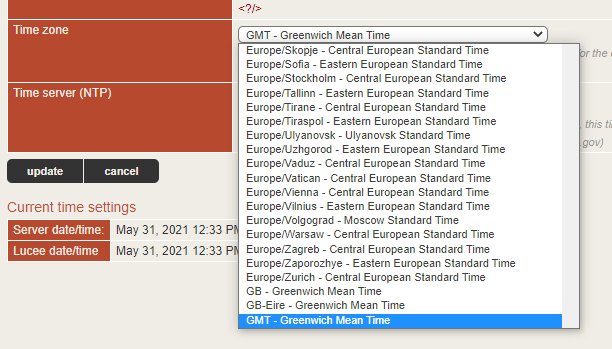 There's a top option "— Server Value —" which one might think is the one, but that seems to just be a label.
My server settings are thus:
root@8c43088668af:/var/www# date
Wed Jun 2 07:46:28 Pacific 2021
In the server admin UI Lucee claims I'm on GMT.
Note: I do not simply want to tell Lucee "use Pacific/Auckland", I want to tell it *to not maintain that setting itself, at all". So whatever the server TZ setting is: use that. This would be the default behaviour of a JVM-based app, as far as I can tell. It's certainly how ColdFusion works.
I'm running version 5.3.7.47, via the stock official Lucee Docker container.
Cheers.