Hey everybody,
This is a continuation on this thread: lucee link. I now got the websocket plugin working on localhost and on the server through a local domain on HTTP (thx for that!). Now I'm trying to get it to work through HTTPS. This is also the part where I got stuck years ago and I hope somebody here can point me in the right direction!
What is the situation
I'm trying to get the most simple example working, so I know it's not the code. So I've implemented the EchoListener and client code on a domain we have. This code is exactly the same on the working HTTP example (just another URL). In the picture below you can see a total view of the problem. I'm on a HTTPS domain, trying to call the EchoListener on the same domain through WSS. But I get a 404 error. I've tried everything to changing ports, place of the code, code outside the domain etc.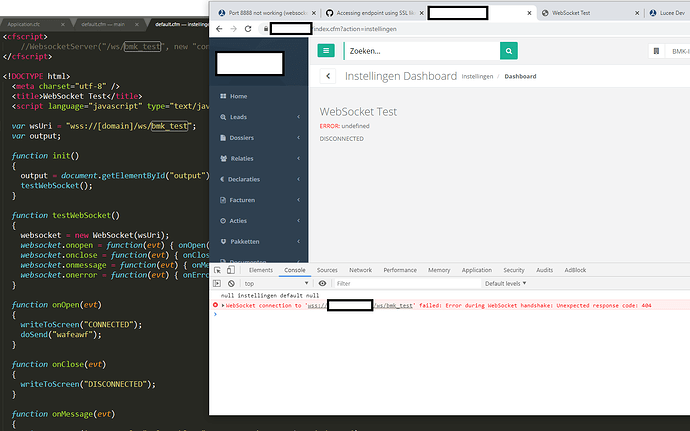 We have a certificate and this is also for websockets (I think). I know that the websocket listener is on because when I call the "WebsocketServer" function twice I get an error that it is already defined.
What may work
I've found a thread here on the github page: link and he talks about a apache proxy that (I think) converts a WSS to an WS on the server. Is this maybe the way to go? How could this be done with a Windows server IIS + tomcat installation.
I hope somebody can help us out! It's really frustrating because we have a beautiful chat application, but we cannot use it because we're now using HTTPS. And a general 404 error is not enough information for me to understand what is going on. I've also seen ERR_CERT errors and ERR_TIMEOUT.
If anyone has questions or want more information, please just ask!
Good day,
DrunkenMoose