Hi there
We upgraded our job servers (2 completely independent Lucee servers with staggered timing for scheduled tasks) over the weekend to 5.3.8.201… All jobs are scheduled in ADMIN \ SCHEDULED TASKS. The scheduler.xml was copied from the old server to the new (for obvious reasons - about 60 Schedule Tasks). After reboots - Seemed like jobs were running great (about 25 each minute each / staggered appropriately).
Noticed this morning that SOME DAILY jobs did not fire at all (on either of two completely independent boxes).
We have Box 1 firing at 03:15 EST - no log file. The output of the job (which it to create a bunch of emails) did not happen.
We have Box 2 firing this same job at 03:30 EST (locally, each have copy of Prod code) - No job on this box either…
Yet - Another job that is scheduled for 5:20 DID run fine…???
We failed one box back to 5.2.8.50 so that we can get up-and-running…
We've kept the other one on 5.3.8.201 to try and replicate the behavior. The issue IS replicating.
When I hit "EXECUTE" - the job runs fine. When it is on a DAILY schedule - it will not run at the appropriate time. Ran this test 4 times.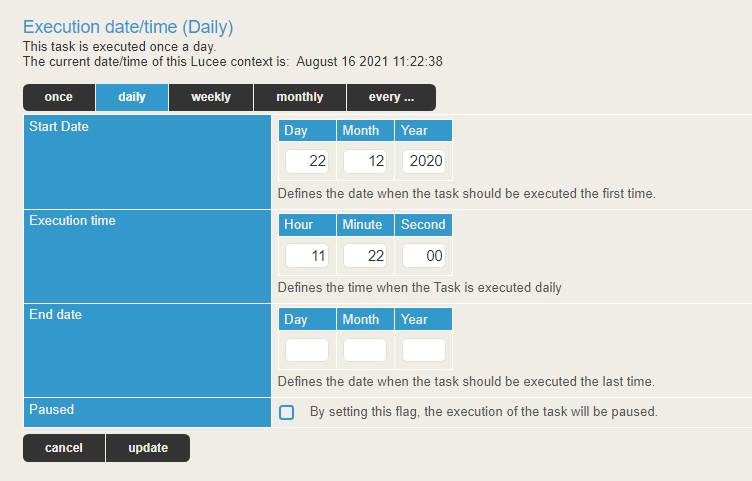 When I manually rebuild the task, with the exact same settings (Daily, logging, time, etc) - it works.
So - Is this some type of regression / migration issue? I thought the Scheduler.xml was supposed to be completely portable between versions (again, for obvious reasons)???
I'm noticing a new feature in Scheduled Tasks called "Run Exclusive" - is this where the trouble is coming from? Since this XML was migrated, and that feature didn't exist before, I could see there being an issue. I would have hoped that because the feature is NOT selected, the Daily Scheduled Tasks would still run… And why are my other Scheduled Tasks running? Confusing…