Hey guys,
QUESTION: Should I be concerned about DB connection issues? We have around 50 tasks that run every 1 to 5 minutes. Is there a reason not to set the connection timeout to 1 day considering our use case?
Lucee: 5.3.9.133
USE CASE
We are working with a few TEMP tables within a Postgres DB from a backend reports server (only scheduled tasks and a few devs use this machine). Postrgres does NOT support Global temp tables. Therefore every time the DB connection is reset, the tables are dropped. I looked in the Lucee Admin and I noticed that the default settings were:
Connection idle timeout: 1 minute
Connection timeout: 5 minutes
As long as we refresh the page, it stays active - but after 5 minutes the connection closes. So I upped the Connection idle timeout to 5 minutes and the Connection timeout to 30 minutes (see screenshot).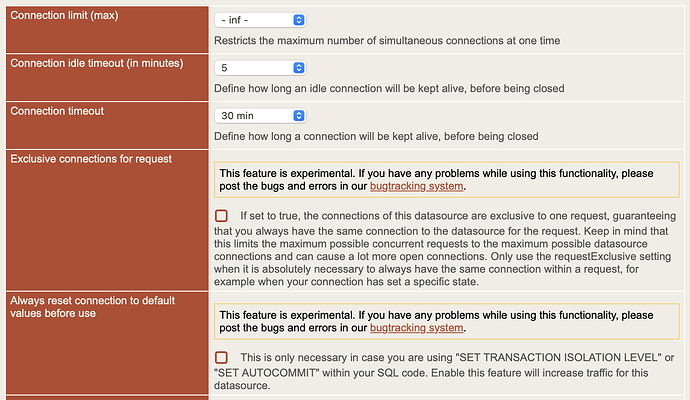 Thanks in advance!