Hello to all
for my project I'm using MongoDB and the lucee driver.
I can't understand how to close the connections.
I found the command:
db = MongoDBConnect ( dbName, dbString );
dump( db.command ( "serverStatus" ).connections );

to have the number of active, current and available connections: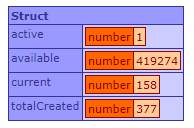 Number of "current" grow up over and over and never decrease (even after many days).
How can close each connection that i open with MongoDbConnect?.
I was expecting a db.close()…
Can you help me?