Thanks to our current and long-standing members and supporters for your contributions over the years. You keep Lucee competitive, growing, and cutting-edge. Lucee would not be what it is today without your support!
The last two years have seen a marked improvement in Lucee's development release cycles, spearheaded by our product manager Patrick Quinn (@IamSigmund ). Not to mention the unflagging efforts of Michael Offner (@micstriit) and the team of core committers for their ongoing passion for Lucee.
For the last six months, the Lucee Association Switzerland Board of Directors has turned its attention to the governance and transparency of the management of the Association, and the funds entrusted to us.
We have ambitious plans to grow the Membership base and overall contributions to the Lucee Server project over the next few years. As such, we need to scale our ability to manage contributions both large and small. And, if possible, offer companies options for formal charitable donation.
The Board believes strongly in transparency and wants to provide Members and the general community with visibility into project contributions and how the money is spent. Transparency is a key component of building trust in the project and a key strategy for us moving into the future to attract more Members.
After considerable research we've decided to move LAS financing to the Open Collective project. Open Collective (OC) is a crowd-donation platform with a focus on the needs of open source communities. Open Collective is used by projects like Webpack and Vue.js, and supported by companies like Adobe, Facebook and Salesforce.
The Lucee Collective is already up and accepting donations!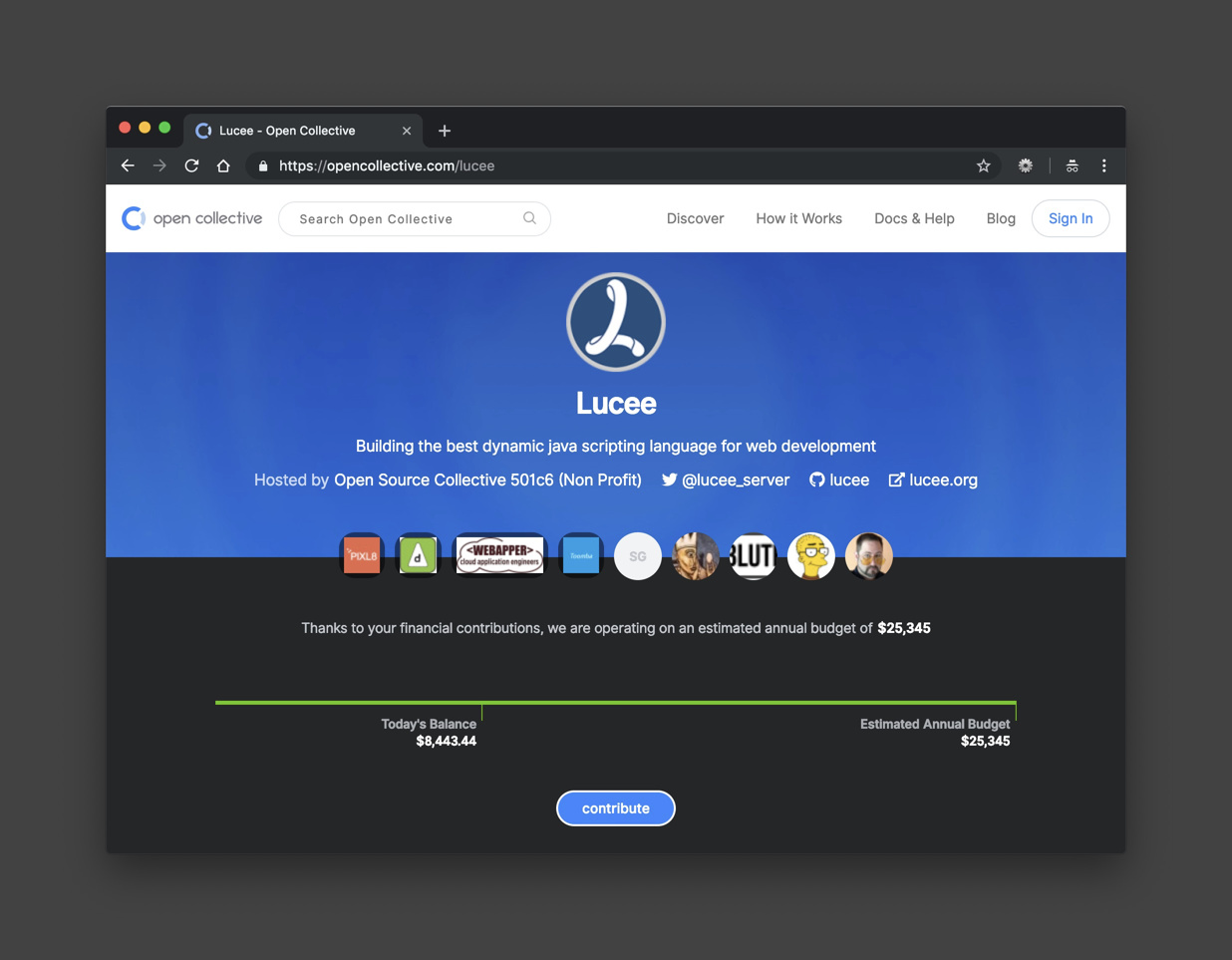 We're asking everyone in the global Lucee community to visit https://opencollective.com/lucee to learn more.
We welcome and appreciate donations of any size, either one-time or recurring. And for anyone who is able, please consider a full membership in LAS. The benefits are substantial (e.g. private access to the development team, and related Lucee discussion, voting rights to direct the project, and more), and membership in particular ensures that we collectively achieve our primary shared goal—brightest possible future for Lucee.
While it will take some time to fully transition our existing financial arrangements, we are doing our utmost to make this as painless as possible for existing supporters. We are reaching out to existing contributors to make arrangements. If you need to contact the LAS admin team for any reason please reach out to @joymiller directly.
Kind regards,
Geoff Bowers
LAS President