LAS has seen a fundamental shift in its approach in the last year. The changes are a reflection of the growing maturity of the association and a recognition of its responsibility to Members and the greater Lucee community.
LAS is an association of Members. The primary function of LAS is to support those Members.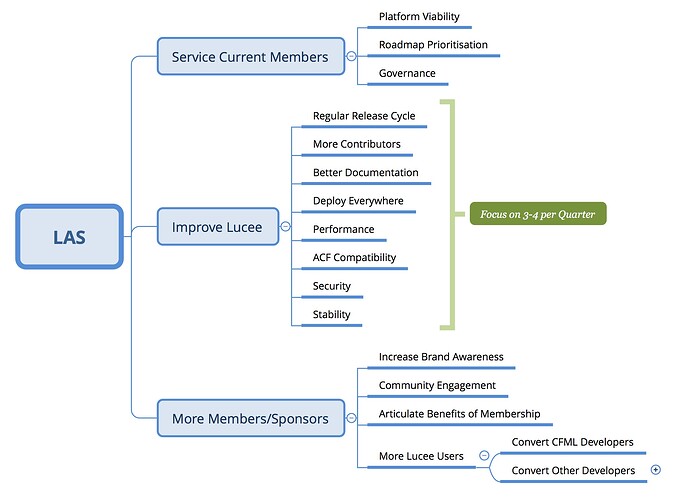 Objectives
The Board has oriented LAS toward the following key Member objectives for Lucee:
Platform viability
Roadmap prioritisation
Governance
Platform viability
All LAS Members rely on the viability of Lucee as a platform for their business. The Board recognises the need for a stable, reliable and secure Lucee server platform as paramount.
Roadmap prioritisation
LAS has limited resources. We are focused on the recognition of key platform issues and features. The Board maintains a product roadmap that focuses resources on issues that affect the overall viability of the platform.
Governance
LAS needs to be accountable. Members and a myriad of smaller sponsors finance the association. It is beholden upon us to provide appropriate oversight and diligence to ensure contributions are well spent.
Key Results
These objectives are aligned with the pursuit of two key results:
An improved Lucee platform
A healthy Lucee community
An improved Lucee platform
We want to build the best light-weight dynamic scripting language for the JVM, bar none.
The Board has had tremendous success in improving the development practises around Lucee server:
introduced a formal role for Product Manager
introduced a managed short-term product roadmap
enforced an agreed Sprint backlog to focus development efforts in line with Member and community needs
moved to a regular "monthly" release cycle with some 10 releases per year
moved to an alternating Release Candidate and Gold Release focus to improve quality assurance
increased the directly funded LAS development team from 1 to 4 part time developers
With these foundations in place we are moving towards more ambitious goals in the coming year:
medium to long term product roadmap
a larger, funded development team
better community engagement for pull requests
A healthy Lucee community
The Board acknowledges that a robust community is a critical part of the long term sustainability of the Lucee platform.
The Board believes strongly that the crux of any development community is a great product. As a consequence we have been focused on improving our development processes and have only recently turned our attention back to improving LAS community engagement.
The Board has prioritised a range of initiatives to improve Member and community outreach:
engaged administrative staff to service Members and sponsors directly
funded a rebuild of the lucee.org website
commenced a video series detailing Lucee features
committed to a monthly newsletter and other communications
Post General Assembly, our immediate strategies will focus on improving our service to the LAS Member community to ensure we're addressing concerns within the association itself. We aim to provide improved access to the Board itself, better transparency around decisions and to better articulate the benefits of LAS membership.
In parallel, we aim to engage more regularly with Sponsors, and regular contributors within the community. The Board wants to do a lot better at acknowledging the range of contributions from the greater Lucee community.
On behalf of all LAS Members, I would like express my heartfelt thanks to the Management Board for their service over the last year:
The Board's enthusiasm and guidance have had an incredible impact on the success of Lucee server community. It has been my pleasure to work with you all.
Thank you.
Geoff Bowers, Daemon
LAS President