Announcing the release of Lucee 5.1.1
Sprint Retrospective
Welcome to our first formal sprint retrospective. If you haven't been a part of one of those, it's the discussion of the just-concluded sprint where we look at what went well, and more importantly what we can do better in the next sprint. Now that we have a formal sprint and release schedule, we'll be posting these retrospectives following each sprint. For the record, this post is a bit late. We will typically be doing these within the first week post-sprint, but since January was our first formal sprint, there was some extra cat-herding needed that delayed the retrospective a bit, mostly related to improving the build process. In short, blame the Product Manager!

Ok, so, the January 2017 sprint was a solid success. Here are some details about this sprint:
Ended on time (meaning the development team did an excellent job with estimation).
Included the addition of an extra ticket not part of the original sprint plan.
Resulted in 3 Lucee releases:
5.1.1 (current/stable)
4.5.5
5.2.0 (alpha)
As you can see, the Lucee development schedule always includes much more than just the current sprint. It also includes patching prior releases (4.5.5, in this case), and also development on the next minor-version release of Lucee (5.2.0, in this case). Now, if you're reading this and thinking, "What the heck do all these version numbers mean anyway?", then don't worry–you're in good company. That's what I thought too when I took over as PM, and I suspect a good number of people in the community would like this clarified as well. In fact, if you buy them a beer, I bet you'd get some LAS members to admit to this too.

So, in the coming weeks, I'll be publishing a detailed post about how Lucee versioning works.
Meantime, 5.1.1 is ready for use (download links here have been updated). Same with 4.5.5. Or, you can head over to stable.lucee.org if you'd like to start hacking away with the 5.2.0 alpha. As for release notes, here's a link to what's included in 5.1.1 (or patched for 4.5.5), or, for 5.2.0, you can review the 5.2.x changelog.
The February 2017 sprint is well underway–about 2/3 complete as of today, actually, including the addition of two tickets not part of the original plan, which means we may add to the next release (5.1.2) before the sprint is complete. And planning for the March 2017 sprint is just wrapping up, and we'll publish that plan as soon as it's ready. As a reminder, our planned schedule is as follows:
Have a current and next sprint published at all times.
Complete sprints on time, even if we have to trim the list of tickets completed.
Ship a Lucee release as soon as testing is completed following each sprint (ideally by the 1st of each month, or, if not, then within a day or three).
Publish a retrospective within the first week of each sprint completion.
In summary, here's what I owe you:
March 2017 sprint plan.
New post about Lucee versioning.
Sprint Planning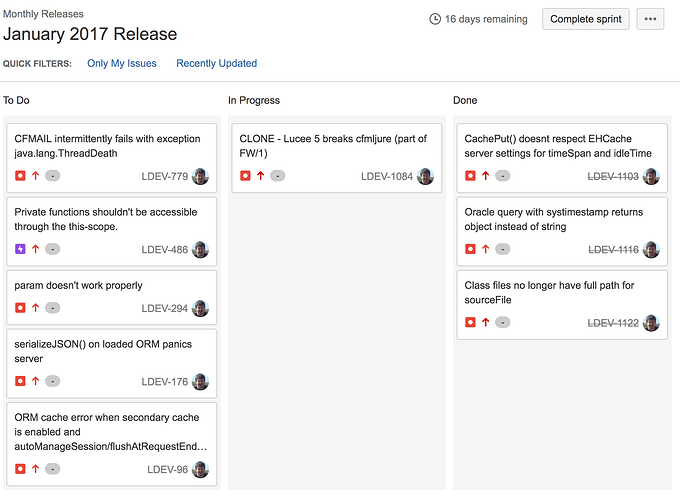 And some thoughts for the next Sprint…

Thanks for your time.