I'm having an issue with a Lucee function in one of my sites.
The function is ImageRotate(). The issue is that, at some point in the past few months (sorry I don't think I can narrow it down any more than that) this function stopped working correctly.
It was originally coded it according to the Adobe ColdFusion documentation. https://helpx.adobe.com/coldfusion/cfml-reference/coldfusion-functions/functions-h-im/imagerotate.html
The Adobe documentation shows that there are two options and I used the first option.
The Lucee documentation shows only one option which is similar to the second option above. https://docs.lucee.org/reference/functions/imagerotate.html
At the bottom of the Lucee documentation there is a code sample demonstrating how to use the function and it is coded using syntax similar to option 1 in the Adobe documentation:
You can edit the parameter value and run the code, which I did to confirm that the parameter did in fact represent an angle.
In the site, the end user can rotate images using the interface, shown below, by:
Selecting an image and clicking either
The rotate left or
The rotate right buttons
Like I said, this functionality used to work but now we get the following behavior:
· Clicking rotate left rotates the image but corrupts it in doing so (see image below)
o Clicking rotate left again throws an exception with the message, "All factories fail for the operation "bandselect"
· Clicking rotate right immediately throws an exception with the message "1952" or "java.lang.ArrayIndexOutOfBoundsException"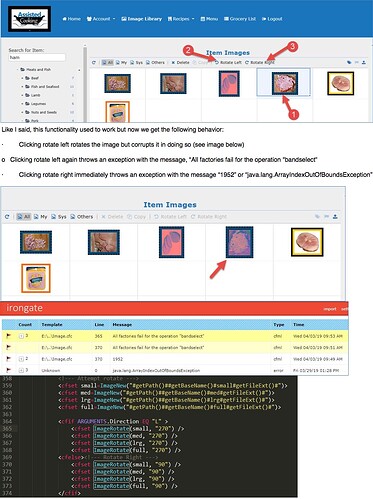 This is what I see in irongate:
And here is the code:
In the site when an image is uploaded we save four different sizes which is why there are four images involved. You can that the code is similar to the sample code in the Lucee documentation.
Any chance someone can shed some light on what is going on here? Is this a bug internal to Lucee?
Any help would be appreciated.
Thank you
Barbara