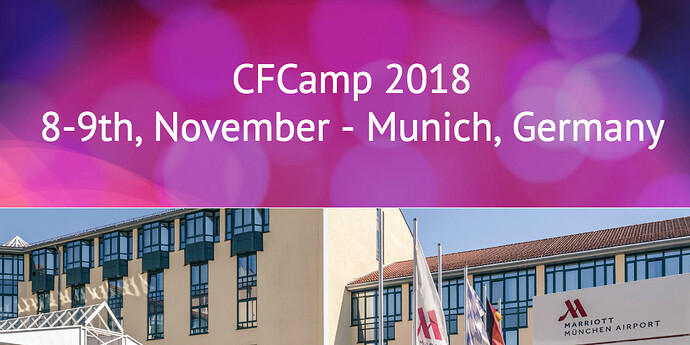 Here are the five talks we would absolutely recommend! Which one are you most excited for?
Cybercrime
In this session, we will talk about current threats and cybercrime phenomena, give insight into the possible course of action of the perpetrator, and highlight which safeguards are in place. The speaker is a member of the Bavarian police itself!
Please note: This session is held mostly in German, but is no less interesting. The presentation on the screen will be in German and English. There will be an Q&A in English too.
Read more https://www.cfcamp.org/sessions/cybercrime.html
Create a 2-Factor Authentication for Your Own Website
Security is getting more and more important. A 2-factor authentication will help you secure your logins. Every attendee gets his own YubiKey 4 (worth $40) to use for his own purpose. Use it to authenticate yourself with services and websites like Gitlab, Dropbox, Google, Facebook, etc.
Read more at https://www.cfcamp.org/sessions/2-factor-authentication-for-your-own-website.html
Preside Platform
Preside is an incredibly powerful application development platform. Yes, it can be used to build websites and has awesome CMS capabilities, but these are just a subset of its features and can be completely turned off.
Read more at https://www.cfcamp.org/sessions/preside-platform.html
JVM Security Manager
Elasticsearch - being an integral part of the Elastic Stack - is known for its full-text search and analytics ability. The goal of this talk is not (only) to show off Elasticsearch features. You will start thinking about these non-functional requirements in your own applications as well!
Read more at https://www.cfcamp.org/sessions/jvm-security-manager.html
I do CFML, java, PHP and… human rights!
Regulation (EU) 2016/679 on the protection of natural persons with regard to the processing of personal data and on the free movement of such data (better known as "GDPR") has been around like forever. At least for legal and IT professionals.
Read more at https://www.cfcamp.org/sessions/i-do-cfml-java-php-and-human-rights.html
Still considering if the ticket is worth the price?
Did you know that beside 26 sessions, drinks, food and a Yubikey4 (worth $45) you now also get a free Fusion Reactor developer licence (worth €179)? You can learn more about Fusion Reactor at https://www.cfcamp.org/sponsors/fusionreactor.html
Get your tickets at https://lucee.org/get-tickets-for-cf-camp-2018.html