Hello,
First, I must express my gratitude to those of you behind the amazing Lucee and CommandBox technologies.
I am experiencing this problem and would like some help:
I use CommandBox on CentOS7 which I remotely access from Win10. I am the admin and root user on the CentOS, which has a static IP address and is leased from a large webhosting company in China.
A friend of my helped me setup a Node.js-based website, which looks like the following:

The five blue circles in the above image are five tabs in one page.
Now I don't like Node.js syntax and would like to switch to CommandBox. And thanks to the help from TAG, I have successfully got CommandBox to work to a certain degree.
I have made a copy of the index.html file that Node.js serves, and renamed the copy index.cfm, hoping to see the same result as the screenshot above, but what I see is the following:

Obviously, the five tabs have become bullet points, which is usually caused by css files not loaded.
The developer console of Chrome indicates no errors.
But FireFox shows conflicting statuses (see screenshot above): two lines show that bootstrap.min.css was successfully loaded, with codes 200, but next it indicates that the same css file was not found, with error code 404.
The index.cfm file has a line like this:
and the above include-cfm.js file includes 27 external files into the index.cfm file, like this:

I have indicated the bootstrap.min.css file with a blue underline.
My folder structure is like this: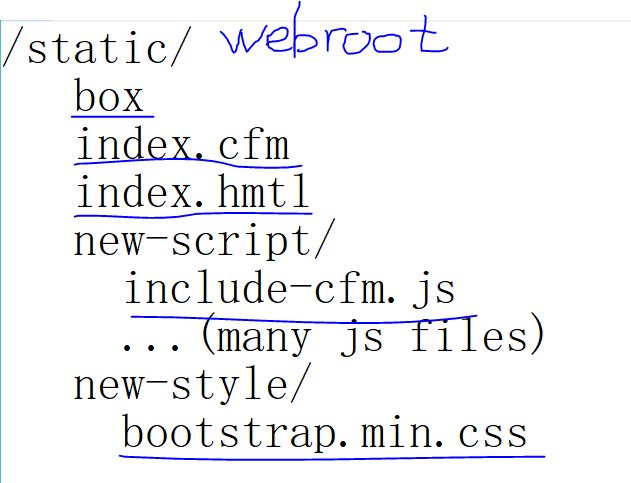 I sometimes see a long list of 304 error codes, indicating that all the js files and css files referenced in the include-cfm.js file are of 304, like this:

But the 304 errors are not consistent, I sometimes don't see them, seeing just the conflicting errors of 200 and 404.
I have stopped the Nodejs server to test CommandBox for fear that it may not work together with CommandBox, but I still get the above error messages.
Any help is greatly appreciated.
best regards
Jim
Don't forget to tell us about your stack!
OS: CentOS7
Java Version: JSE1.8
Tomcat Version: ???
Lucee Version: ???