Like voting in Chicago (#BornAndRaised), we like to ship Lucee early and often… so here's another final release!

The final build of Lucee 5.2.6 (5.2.6.59) is ready for download and use on production systems.
Here's a peek at the change log: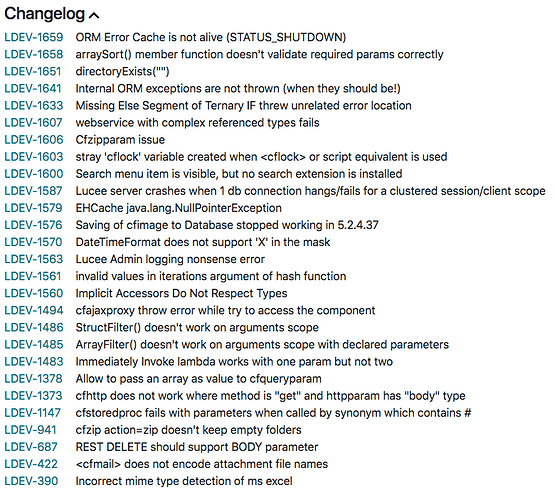 There were no regressions reported during the February release candidate period, which is always good news, as we know we have a larger number of people deploying Lucee RCs quickly for testing. That's a good sign of the ever-increasing stability and maturity of the codebase, but we always want more testers, so please do get in touch with us if you can help with testing during RC periods.
Next, the March sprint is underway, and it will produce Lucee 5.2.7-RC. We've got plenty of room for more tickets during March, so please let us know which favorite ticket(s) of yours you'd like us to tackle! So far in 2018, our staggering of release candidates and final releases looks to have improved productivity, as our rate of closing tickets has increased through the first couple of months.
Here's to more of that!
Finally, another benefit of the better-focused development schedule in 2018 is more time to spend on "roadmap development"–new minor versions in particular. To this end, we're prepping a beta release of 5.3!
At present our goal is to deliver that to the community in April. That said, we want to improve the way we support beta releases with better documentation, so we're going to take our time to make sure the beta release (and docs) are as good as possible.
As always, thanks for listening, and thanks so much for your interest in Lucee!