I installed a fresh copy of Lucee 5.3.8.201 on my AWS EC2 stage system using the newest AWS EC2 Linux (Centos 7). I set it up to me a proxy for my Apache server. I used the non-root user 'apache' for it to run.
I can get to the /lucee/admin/web.cfm page on my virtual hosts, but I can not log in using the password I set during the install. It always comes back with "Access is restricted"
I CAN NOT access /lucee/admin/sever.cfm page. No matter how I try I get the error:
can't access [/opt/lucee/tomcat/lucee-server/context/userdata] directory must be inside [/opt/lucee/tomcat/webapps/ROOT]

I have tried from the virtual host URL, I have also tried through an SSH tunnel to http://127.0.0.1:8888/lucee/admin/server.cfm
I checked the permissions on all the /opt/lucee directories as well. I can not get into the server admin.
HELP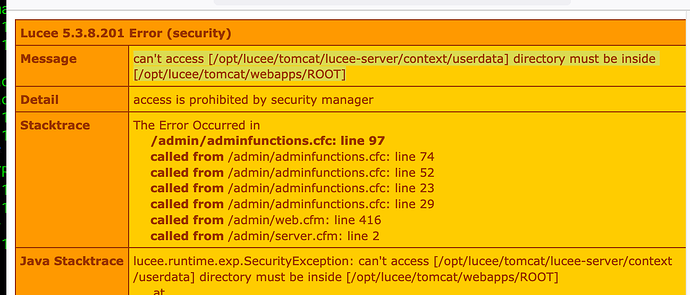 Don't forget to tell us about your stack!
OS: AWS EC2 Linux 2
Java Version: openjdk 11.0.12 2021-07-20 LTS
Tomcat Version: 9.0.46
Lucee Version: lucee-5.3.8.201