Greetings Lucee-lings.
Who wants to take on the task of coming up with a really cool nickname for Lucee devs?
It's your friendly neighborhood Product Manager.
Pardon my French, but it's been a damn busy couple of months on the dev team! After the biggest-ever effort to ramp up Lucee's development pace, we decided to slow down a bit following the April sprint/May release, and to take stock. Beyond just the rapid release cycle we'd been following in 2017, we were also adding LAS members, expanding the development team again, and also seeing wider adoption of Lucee. Along with all of this, we noticed an increase in tickets in the April-May timeframe (more users = more tickets!), including some urgent ones related to threading (fixed), caching, the Administrator, and a few others. In all, there was a lot going on.
We had planned all along that we'd need to slow the pace of releases at some point. That's why we announced 10 releases for 2017, instead of 12, as part of our "monthly" release cycle. So in May we decided not to do a release at the beginning of June. Instead, we combined May and June into one sprint, which has been an especially busy one, as you might expect, as we were getting caught up. Even though I haven't published the May-June sprint plan until now, it's been ongoing.
Here's the ticket list for the May-June sprint, which will produce Lucee 5.2.2, available at the beginning of July:
https://luceeserver.atlassian.net/issues/?filter=12400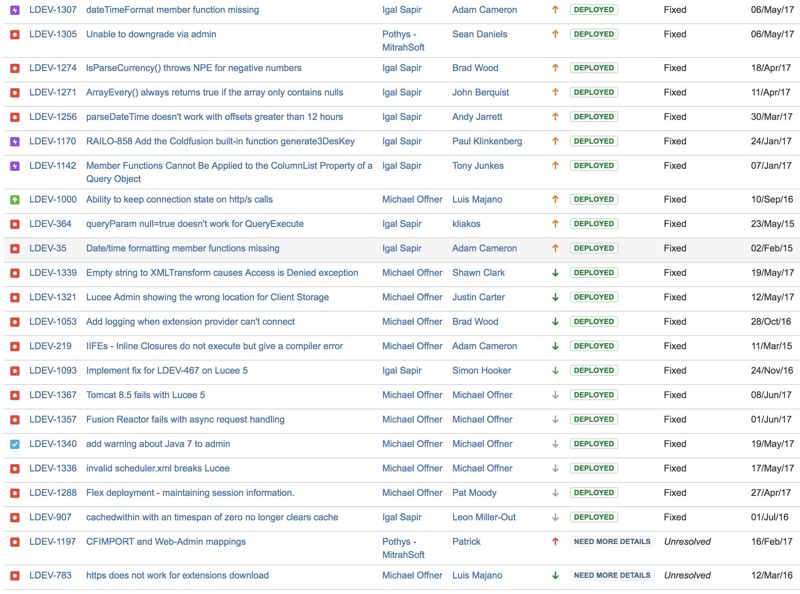 And here's a list of all tickets processed since May 1 (this is considerably longer than the sprint list, since not all tickets that are created get fixed or added to a sprint, but still need to be addressed):
https://luceeserver.atlassian.net/issues/?filter=12500
Also, we're getting ahead a bit by publishing the July sprint plan now (which will produce Lucee 5.2.3 at the beginning of August):
https://luceeserver.atlassian.net/issues/?filter=12401

Important note about the July sprint:
We've intentionally left room in the July sprint for additional tickets, so if something you're waiting for wasn't addressed in May-June (or earlier), then please do let us know. Ping me or one of the LAS members here, or in the Lucee channel of the CFML Slack team, or @mention me in a ticket, upvote tickets, or, always remember that every month we devote development time to sponsored (paid) fixes as well.
Thanks so much once again for your interest in Lucee. I'm pleased with what we've accomplished during our first 6 months of formal sprints, but trust me when I tell you we're all nonetheless working hard, constantly, to keep improving Lucee for our most prized possession–you.

Thanks for listening.