Need to work out which database name is associated with a specific datasource.
Do not have access to:
web administrator
or a password for <cfadmin>
At first I thought <CFDBINFO> would be the ticket

But it appears it will only give me the list of databases available via the datasource, but not which of the visible databases the datasource is bound to.
For example; the database the datasource is bound to here is stage_boxofbooks but there does not appear to be anyway to tell this programmatically.
<cfdbinfo name="stInfo" type="DBNames" datasource="bob">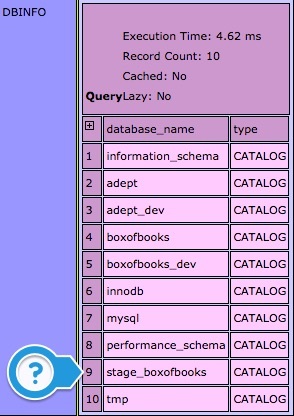 A conundrum I'm hoping someone might be able to help with